Buylist
Bulk Information:
We buy any bulk Rare/Mythic at £0.10. (This does not include Purple Timeshifted cards, Chronicles, Fallen Empires and Homelands U1's). This is to save you time scouring our buylist if you want to sell a large quantity of Rares/Mythics in one go. Just send them in with your name, address and email address and we will get back to you with a final tally and cash/trade amount.
If you would like to sell us bulk Commons/Uncommons we buy at £2.00 per 1000. This does not include Basic Lands.
If you would like to sell us Bulk Foils we buy at £0.03. This includes Basic Lands.
Please send any Bulk Lots to:
Union County Games 340 Pinhoe Road Exeter Devon EX4 8AF
Grading Scale
Once we recieve your buylist we will grade it and get back to you with our final offer. If everything is N/M, changes will not be made to the buylist price of any of the cards. If a few are a little dinged we will reassess the price and shoot a figure back to you.
If you are not happy with our grading we will be happy to return the cards selected back to you at the cost of Second Class Signed For delivery. We can either take it out of the final figure or you can pay via debit card/PayPal.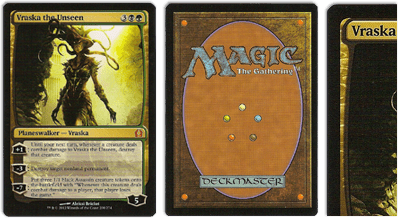 NEAR MINT (NM)
Cards in Near Mint condition show minimal to no wear from shuffling, play or handling and should have an unmarked surface, crisp corners, and unblemished edges outside of minimal handling. Cards in Near Mint condition look fresh out of the pack, and edges and surface should be free from nearly all flaws.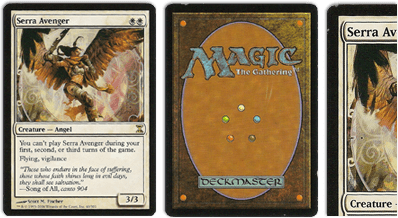 LIGHTLY PLAYED (LP) 80% N/M Price
Cards in Lightly Played condition may have minor border or corner wear, or even just slight scuffs or scratches. There are no major defects, and there are three or less flaws in the card. Foils in Lightly Played condition may also have slight fading or signs of wear on the front of the card.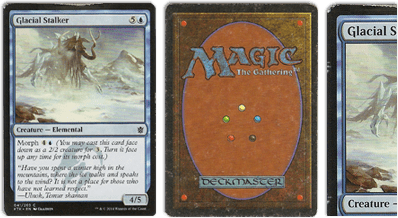 MODERATELY PLAYED (MP) 60% N/M Price
Cards in Moderately Played condition show moderate wear, or flaws visible to the naked eye. Cards in Moderately Played condition may have moderate border wear, mild corner wear, water damage, scratching or scuffing, creases or whitening, minor dirt buildup, or any combination of mild examples of these defects.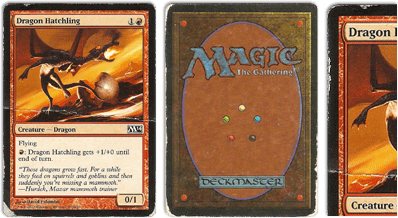 HEAVILY PLAYED (HP) 40% N/M Price
Cards in Heavily Played condition show a severe amount of wear. Heavily Played condition can include cards that have major creasing, folding, heavy water damage, heavy whitening, heavy border wear, or tearing.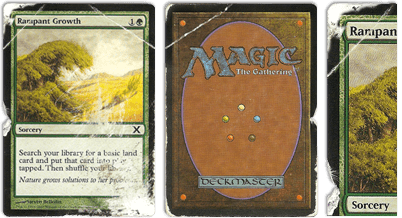 DAMAGED (D) We currently don't buy damaged cards
Cards in Damaged condition can exhibit a tear, bend, or crease that may make the card illegal for tournament play, even in a sleeve. Cards in Damaged condition may have extreme border wear, have been written on or major inking (white-bordered cards that are markered on front to look black-bordered), extreme corner wear, heavy scratching or scuffing, folds, creases or tears.
We will make concessions on condition for cards over a certain price. We don't expect every high value old cards sent to us to be in pristine condition every time.
If you have any enquiries or would like to simple let us know what's incoming, please don't hesitate to contact us at Contactus@unioncountygames.co.uk
Union County Games reserves the right to cancel or turn away any buylist order sent in to us without giving an explicit reason for doing so, although this would only be the case in extreme circumstances.